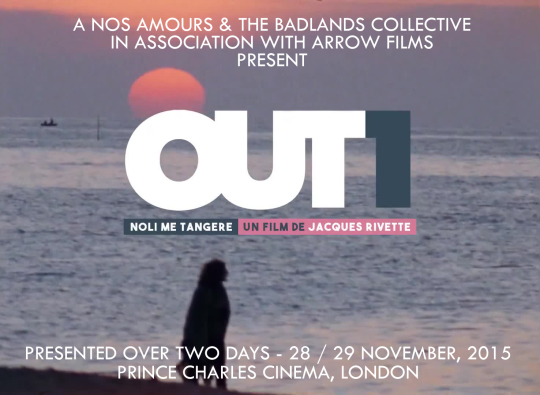 This is the big one. The New York Times called it "the cinephile's holy grail" and Eric Rohmer hailed it as "a cornerstone in the history of modern cinema". After being impossible to see for many years, it is a great pleasure to announce that we, in collaboration with our friends A Nos Amours, will be hosting the UK premiere of the new 2K restoration of Jacques Rivette's Out 1 (Noli me tangere) in all its 773-minute glory.
We are delighted to be returning to The Prince Charles Cinema in Leicester Square, where the film will screen over two days on the 28th and 29th of November. This is a once-in-a-lifetime opportunity to experience this remarkable picture the way it should be seen – beautifully restored on the big screen. It is no exaggeration to say that this landmark screening will be the English repertory cinema event of the decade.
Loosely inspired by Honoré de Balzac's La Comédie humaine, Out 1: Noli me tangere is an absorbing, multi-stranded epic involving a quest to uncover a secret society in post-May 1968 Paris, with an enormous cast made up of French heavyweights like Jean-Pierre Léaud, Juliet Berto and Bernadette Lafont, not to mention cameos from directors like Eric Rohmer and Barbet Schroeder.
Constructed as eight feature length episodes which run over almost thirteen hours, it was originally screened just once in its original cut in 1971, with rare subsequent screenings in the '90s and '00s becoming the stuff of legend in cinema circles.
We are delighted to be working with A Nos Amours on this event. An invaluable programming collective run by filmmakers Joanna Hogg and Adam Roberts, we have been attending their screenings for years, and it is a privilege for us to collaborate with them. We are equally pleased to be collaborating with Arrow Films and The Prince Charles Cinema, both of whom have been instrumental in putting the screening together. We applaud their dedication to bold, adventurous cinema.
The structure of the two days will be as follows:
Day 1 – Saturday 28 November 2015
09:00 Doors open
09:15   Episodes 1 – 2 (199 minutes with a 10-minute break in between)
12:45   Intermission (40 minutes)
13:25   Episodes 2 – 4 (215 minutes with a 15-minute break in between)
17:15   End of Day 1
Day 2 – Sunday 29 November 2015
09:30 Doors open
09:50 Intro
10:00   Episodes 5 – 6 (190 minutes)
13:10   Intermission (60 minutes)
14:10   Episodes 7 – 8 (171 minutes)
17:15   End of Day 2
Given that the cinema will be giving up a number of slots to accommodate this very special screening, it is essential that we sell enough tickets in order for the event to go ahead. While we have every confidence that the screening will prove to be popular, the only way to guarantee it happens is to BUY YOUR TICKETS NOW and help us spread the word. They are available through this link to the Prince Charles Cinema website.
Want to know more? Check out our Out 1 FAQ.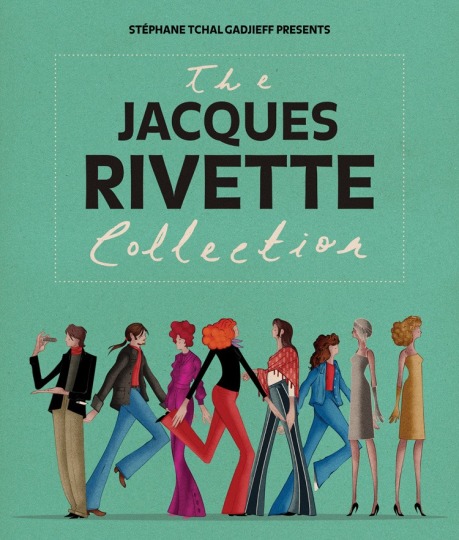 The screening coincides with the release of Arrow Films' The Jacques Rivette Collection on Blu-ray. The much-anticipated set features Out1: Noli me tangere, Out 1: Spectre, Duelle (une quarantaine), Noroit (une vengeance) and Merry-Go-Round, each restored and appearing for the first time on home video in the UK. The set can be pre-ordered here: http://www.arrowfilms.co.uk/shop/index.php?route=product/product&product_id=603